Giants Grave – An Ancient Oasis of Cherry Hinton
This large dip at the southern end of Cherry Hinton, in Mill End, contains a fresh spring pool, fed by several springs which break-forth from the underlying chalk at the north-western base of the GogMagog Hills. The springs and their pool go on to form the Cherry Hinton Brook, which runs in a north-westerly direction until it reaches the River Cam at Stourbridge Common.
The site is known locally by several names. It is known as Spring Head, Robin Hoods Dip and, most commonly, as Giants Grave. The name Giants Grave is thought to be after the giant GogMagog, which legend says lived nearby and was buried here. In the 19th Century some Iron Age burials were unearthed locally on Lime Kiln Hill, where the skeletons were thought to be unusually tall (Cherry Hinton Chronicle, 1854).
The water flowing from the site provided a reason for settlement in the Mill End area of Cherry Hinton. A water supply was important for the growth of the village, particularly as a cottage industry in the village was laundering for the Cambridge Colleges, as depicted on the Cherry Hinton village sign. So plentiful was the flow of water from the springs and through Cherry Hinton Brook, that in the past, there were at least two watermills on the Brook route through to the River Cam
© Michelle Bullivant
To find out more about the history of Giants Grave and find out about the archaeological excavations at the site, please come and visit the new display board where you will find further interesting information and pictures.
There was previously an information board for the site which local historian & archaeologist  Michelle Bullivant had produced as part of a project with a local school in 2003 but the original display board had grown very old and tired and almost unreadable.
The Friends of Cherry Hinton Hall, who have also taken the site of Giants Grave under their wing, along with Local Councillor Mark Ashton, decided that the time was right for a fresh new board for this pleasant, little, historic oasis. Cambridge City Council, who own the site, kindly supported the renewal.
The NEW board has been redesigned by Ms Bullivant, who is also the Friends of Cherry Hinton Hall Committee Historian for Cherry Hinton Hall, and given a new lease of life incorporating new information and pictures and creating a strong link between groups in the village. Along with the Friends of Cherry Hinton Hall, both the Cherry Hinton Local History Society and The Friends of Cherry Hinton Brook and the local councillors have been involved in the production of the new board.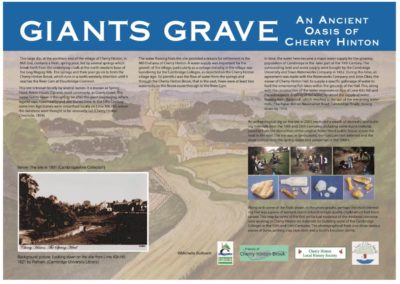 If you would like to find out more about any of the groups involved, please see their web links below:
Friends of Cherry Hinton Hall – www.cherryhintonhall.com  – The Friends of CHH act as advocates and champions of Cherry Hinton Hall grounds and provide an effective communication channel between the Council and the public, see more at their website
Friends of Cherry Hinton Brook – www.friendsofcherryhintonbrook.org.uk  – Friends of Cherry Hinton Brook are a group of mainly local residents who banded together in June 2009, initially triggered by the need to clear the rubbish from the Brook and its environs, particularly between Cherry Hinton Hall and Sainsbury's, see more at their website
Cherry Hinton Local History Society -https://sites.google.com/site/cherryhintonvillage/Groups-and-Societies/cherry-hinton-local-history-society -We are a friendly and approachable group interested in all aspects of local history. Aiming specifically to promote and encourage the study of local history of Cherry Hinton and preserve its heritage. We also have a keen interest in surrounding areas, see more at their website